12.12.2017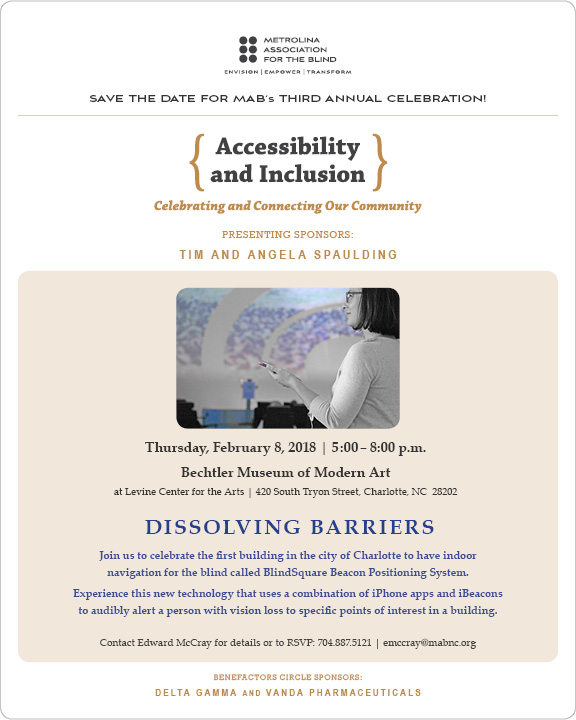 Accessible text for 2018 Accessibility and Inclusion SAVE THE DATE
MAB logo
Save the Date for MAB's Third Annual Celebration!
Horizontal dividing line
Large "Accessibility and Inclusion" logo at top
"Celebrating and Connecting our Community" tagline underneath
Presenting Sponsors:
Tim and Angela Spaulding
Photo of person using phone app in museum
Thursday, February 8, 2018 | 5:00–8:00 p.m.
Bechtler Museum of Modern Art
at Levine Center for the Arts
420 South Tryon Street, Charlotte, NC 28202
Large blue text, all caps: Dissolving Barriers
Medium blue text: Join us to celebrate the first building in the city of Charlotte to have indoor
navigation for the blind called BlindSquare Beacon Positioning System.
Experience this new technology that uses a combination of iPhone apps and iBeacons
to audibly alert a person with vision loss to specific points of interest in a building.
Small text at bottom:
Contact Edward McCray for details or to RSVP:
704.887.5121 | emccray@mabnc.org
Benefactors Circle Sponsors:
Delta Gamma and Vanda Pharmaceuticals
« Back